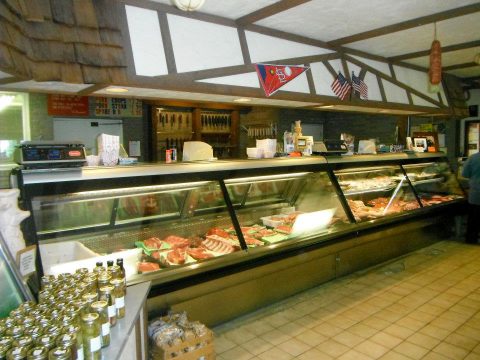 Schubert's Smokehouse and Meat Packing company continues in the traditions set by Larry Schubert over 30 years ago providing the highest quality meats to the community.  Dave Kossina is now working closely with Larry  to carry on the traditions set by the Schubert's over the years.  The Kossina family will maintain the highest quality standards for our products and offer outstanding service to our customers.
Our wholesale and retail operation starts at slaughtering and ends in the retail meat case.  Daily items include:  fresh beef and pork, cured meats, bacon, homemade sausages and German style specialty meats.
The Schubert's Smokehouse  also offers deer processing for your convenience. Please contact us for pricing and ordering details or stop by our shop and let one of our friendly staff members assist you!
A Word From Our Customers
Excellent! Great stuff and friendly folks. What more can a wurstaholic ask for?

Excellent meat! Great service! Friendly and fast! Love their Little Smokies!

Quality of their products is matched by their Fast Friendly Service!

Had their Blood sausage at the Wurst fest in Herman this year, outstanding, and I know what I am talking about - Will order more soon.

Great meat and great service! I like the fact that you can pre-order and also their smokies are gooood!

I am almost 40, and I grew up on Schubert's. In 2013, my husband was relocated to Savannh, GA. I miss Schubert's so much. Was home this year for the 4th of July. Today I am cooking the last of the Garlic Sausage from the freezer, wish we had more

Hands down the best - Product and staff